The conferencing and eventing community has been hard hit by the Covid-19 pandemic and subsequent lockdown restrictions, which places a cap on the number of guests (50 or less in a conference room) and requires strict health and safety protocol. However, that hasn't stopped innovation. Here, we look at three different businesses and how they're working within the strict guidelines to meet their guests' needs.
HYBRID EVENTS
At the beginning of July, Spier Wine Farm launched its hybrid and virtual conferencing offerings – it's a great example of where events are headed and offers the best of both worlds.
The hybrid event sees delegates attend the event in-person, with all safety protocols followed, and then delegates join the event virtually. "Hybrid or virtual conferences are a great (and cost-effective) platform for corporates to use to engage with international clients where they may not have the opportunity to meet in person – either due to budget or travel restrictions," says Joep Schoof, Spier Hotel and Leisure General Manager. "During the launch of our virtual and hybrid offering, the team learned a lot.
The technical requirements, behind the scenes workings, different agenda items, terms used and different ways for delegates to engage is completely different from what an in-person conference is."
One of the important lessons that they learned is that it is crucial to get the correct information and communications to delegates before they arrive in order for them to be comfortable. "Delegates then understand that temperature checks and the registration process may take a little longer than usual," says Joep. The team used an app called HealthDocs for pre-arrival screening, monitoring recording on arrival, inserting temperatures, as well as contact tracing.
When asked why he thinks there's still a place for conferences today, he says: "Following strict lockdown measures, people are now more than ever wanting personal interactions with others. From what we've seen, people have a natural desire to connect with others during breaks or in-between sessions."
For that reason, it's important to keep your virtual guests engaged when hosting a hybrid event. "Our programme was aimed at both in-person delegates, as well as virtual delegates. For example, a comedian made jokes with delegates in the front row but also focused on delegates attending virtually, making everyone feel included," says Joep. "We also streamed music from Spier for virtual delegates to enjoy and feel as if they were on the farm, enjoying the views and atmosphere. Chocolate and wine tasting kits were delivered to all virtual delegates before the event – everyone felt together apart as we enjoyed the wine tasting at the same time." It's also important to have a chat or networking function for virtual delegates to use and engage with in-person attendees.
Joep also stresses that it's incredibly important to have a good moderator or MC to encourage delegates to stay engaged and connect with each other. "This will also help the event flow so you forget that you are behind your laptop watching a video of a conference taking place elsewhere. To connect or network with others virtually is still daunting for many, and delegates may need a little encouragement to engage with others virtually or try a new platform. Prizes work well to motivate people to use the chatbox, go to breakout sessions, etc."
The Capital Apartments and Hotels have been ahead of the curve with many of their Covid-19-related initiatives, spearheading their self-isolation hotel in partnership with Discovery and creating 'sanitised sanctuaries' for those who needed to self-isolate. Many hotels are still not opening up their conferencing rooms, but The Capital has anticipated a need for safe spaces and has adapted its offering across all of its properties.
"Even though inter-provincial business travel is allowed, demand for conferencing and eventing spaces remains low at present," says Marc Wachsberger, Managing Director of The Capital Apartments and Hotels. "However, once demand for these events does pick up again, we anticipate business travel stays to be longer than before, as executives are likely to choose the longer drive to a different South African city for a conference or event, rather than risk flying – or if they have to travel before flights are opened. This means they're likely to set up more appointments to make the longer trip worthwhile, and once non-business travel restrictions are lifted too, they could well take the family along too, and enjoy some vacation time after their work is done."
Marc says that they've recently seen an increase in enquiries for conference spaces and to date have hosted a few larger conferences, split between rooms. "Most of our hotels have the luxury of really large spaces that can easily be subdivided into smaller areas to allow for adequate social distancing and safety protocols, making it possible to host a conference with ease."
The Capital Hotels and Apartments conference venues offer a full range of technology and communications array that their business, leisure and event organisers will benefit from in achieving a blend of traditional and technology-enabled formats. The existing conference facilities are equipped with state-of-the-art audio and lighting technology, as well as high speed uncapped internet, which gives virtual event hosts excellent connectivity and a professional and well-lit backdrop that's free from distractions. "Even though each of our conference and hotel rooms has their own independent air conditioning, we make sure that there is ample natural ventilation for any event that we host on site," says Marc on the special measures they've taken to keep visitors safe. "Delegate numbers are limited to 50 max per room to allow for effective social distancing, whether they are seated in cinema format or at tables, and guests receive their own sealed meal packs, rather than having to queue and help themselves from buffet tables."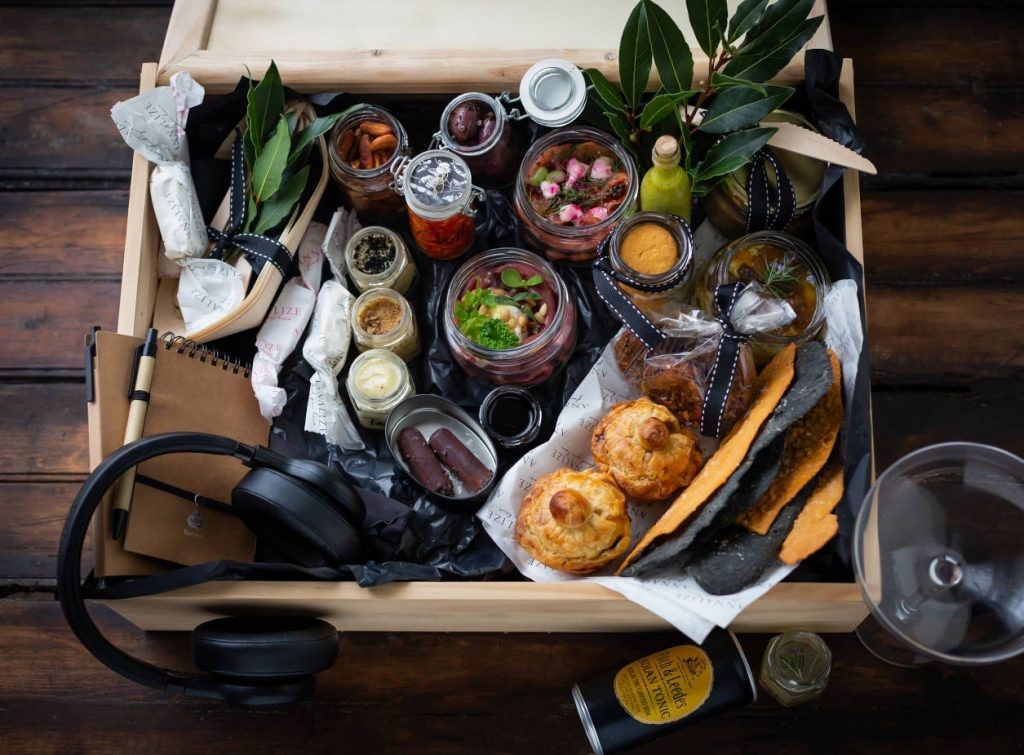 TOGETHER WHILE APART
However, if delegates can't meet face to face at all, there's another solution. Vula Afrika, founded by hospitality entrepreneurs Julie Killias, Aubrey Ngcungama and Ian Manley, quickly launched In Any Event once it was clear that conferences and events were going to be virtual for the foreseeable future. "We're finding that marketing directors and managers are needing to find unique ways to keep their audience, be it clients or employees, engaged within a virtual meet up," says Ian.
The In Any Event package sees each delegate receiving a curated box of goodies before the event, filled with items such as food and beverages, branded stationery and even headphones, all wrapped up beautifully in a box. "The food elements need to be easy to consume. Nothing must require even a use of a microwave. Ideally, there should even be a glass for the cocktail or wine. Nothing must make the delegate 'leave the room'," says Ian.
While all of the delegates are experiencing the same visuals on the screen, the corporate boxes bring them together in another way, tapping into senses other than just visual and auditory. "Prior to current lockdown regulations we found that the alcohol element to the offering was a hit. A mini bar type size bottle of gin plus a tonic or a 375ml bottle of wine is popular and obviously consumed once the virtual conference element to the day is complete and delegates can enjoy an end of day drink to round off the experience," says Ian.
The food offering has evolved to suit delegates' tases. "We found that delegates want a healthy as possible offering. So, as little carbs as possible, which does create a challenge as the obvious go-to items such as a muffin, roasted nuts, crisps etc is frowned upon. Items that are as fresh as possible are preferred," says Ian.
The hampers are built at the company's Cape Town and Joburg offices and then delivered the afternoon before the event through either small courier companies, or through employing members of the Black Cellar Club (BLACC) when 'all hands on deck' are needed.
SUMMARY
We applaud these enterprising Companies.
Most pressing at this time, is attracting Clients to shake themselves free of lethargy & back to conferencing.
To "bring 'em back", there are 4 common pain points that to be overcome ………….
A desperate need to cut expenses
The fear of "herding" in groups & exposing staff to undue infection risks
The ease, time saving & cost cutting of the new found Virtual meetings
A general sense of general doom & gloom making the effort just too much
BizGro has having some great successes in presenting Prospects on behalf of Hospitality Clients, with compelling solutions to these challenges.
And the value to you is there is ZERO Agent's outlay ~ a % of a confirmed initial booking!
Simply click on "bring 'em back" & get your venue filled!
Richard